NEW YEAR!


HAPPY NEW YEAR!



---
DRESSING

´
Detta fina halsband hittade jag idag på Kappahl och tänkte att det skulle passa till
 morgondagens klädsel. En hårfärg fick det även bli men när jag ska lägga i den vet jag inte,
det får nog bli någon gång framöver!

I find this lovely necklace at Kappahl today and I think it will look great together
 with the tomorrow's dressing! I did also find a haircolour I think will be good on my hair, but I don't
know when it will be used yet.


---
DENIM


Snart blir det stan och luncha med Celina!
Time for some lunch in the city with Celina!


---
NYTT


Här har vi de nya plaggen som inköptes igår!
Here are the garments I bought yesterday!


---
BILDER


Det blev en härlig shoppingresa och jag fick med mig ett gäng plagg hem vilket jag
 är nöjd över, vilken tur jag har som har så otroligt fina och kloka kompisar som jag får dela
upplevelser och erfarenheter med!

It was a very good trip yesterday and I find very nice garments during the day.
I am very lucky who have such nice friends to share experiences and life with!


---
TRAVEL


Idag ska jag till huvudstaden  på en shoppingresa med några fina kompisar och det ska
 bland annat ätas gott och kollas på bio! Jag hoppas och tror att det kommer en del nytt med hem
också men det återstår att se, någonting att ha på nyår är dock ett måste att hitta!

Today I am going to the captilal for some shopping with some nice friends of mine,
cinema and nice food are a fact too! I think and hope I will find something new to wear or other new
 stuff to carry home, have a nice day!


---
BUBBEL


Såhär mysigt fick jag det igår efter ett riktigt hårdpass på gymmet! Bubbelbad och bastubad hos
min kära kompis Melinda och en hel del tjejsnack också såklart. Tack för inbjudan sötnos!

The picture doesn't lie, yesterday after the gym I got an invitation to a friend of mine called Melinda.
We whirlpool bathed and she also has a sauna. Thank you my dear for the lovely night!



---
INKÖP


Här är träningskläderna jag köpte idag, riktigt bekväma måste jag säga efter att ha haft dem på dagens pass!
Here are the clothings I bought today, very comfortable and I really love them!


---
DAGENS


Det blev en shoppingtur på stan idag och yttligare massa träningskläder inköptes,
snart tappar jag räkningen på alla tights och linnen jag har haha.. Ikväll ska kläderna invigas med
 ett benpass och ett boxningspass! Bilder på dem kommer upp senare.

Today I have been in town for shopping and I find some nice exercising clothes which I
 will dedicate today already. Now I have so many workout clothes I nearly lost the counting haha!
Today my legs will have their dead and after that it's box time!




---
WANTED OF TODAY


För några dagar sedan när jag var in på Åhléns här i Bollnäs fick jag syn på dessa
 helt perfekta väskor som stog så fint uppställda på ett bord, jag blev kär direkt! Både snygga och
lämpliga och det finns massa bra fack i dem också, 399 kronor är priset!

A couple of days ago I saw this pefect bags at Åhléns, they were so pretty standing their
 on the table and I fell in love immediatly! They are so goodlooking and appropriate at the same time
and the price is 299 sek.



---
PROUD SWEEDE

Satt och kollade på den bedårande Victoria Secret visningen och blev helt
 plötsligt världens stoltaste svensk när Kenye West kommer in med H&M plagg, bra där!

I was watching Victoria Secret Fashion Show when Kenye West
took the stage with a coatee of H&M, proud sweede then! ;)


---
SOCIATY
---
COLD FRONT BLUES


Seriöst vilken jäkla storm det var inatt! Jag var livrädd och var tvungen att krypa ner
i syrrans säng med henne, usscha! Hoppas det blir lite mildare inatt annars vet jag inte vad jag gör,
 sov knappt någonting alls denna natt.

The storm this night was terrible and I was really scared! I went to my sister's room to feel more safe
 but she was very scared too. I hope this night will be calmer so I can get some sleep..


---
JUST ONE MORE
---
BH-FÖRVARARE?


Ett BH-fodral? Jag vet inte vad dessa ska fylla för funktion riktigt men är man överrädd
 om sin BH kanske de är lämpliga. Själv skulle jag inte lägga ner mina fickpengar på dem, men priset
är iallafall 250 kronor och du hittar dem här.

A bra case? Actually I'm not really sure what funktion they are satisfy, but if you really love your
bra it can be usefull as a cover. I would not pay my pocket money for this thing then. The price is 250 crowns at this place.


---
BRUCE
---
MYS


Jag glömde ju bort att lägga in en bild på denna mysiga sak som jag också fick igår! Jus t nu springer jag runt i både den och mystofflorna, riktig mysimys morgon! Nu är det kaffedags och senare blir det ett styrkepass!

I forgot to show you this cosy little thing I got yesterday together with the other stuff. Now I am wearing both this jumpsuit and the slippers I got from Johan, but now it's time for some coffee!



---
JULKLAPPAR



Kolla vilka fina saker jag fått! Kompakt systemkamera, pengar, en hel del skönhetsprodukter
och en massa annat lyx! På andra bilden är presenterna från älskling, tusen tack mamma, pappa, farmor och Johan!

Check out this stuff I have gotten! Compact SLR, money, a lot of beauty products
and more luxury things! In the second picture you can see the presents I got from my sweetie, kisses!



---
LILLA JULAFTON


Vi brukar alltid fira "lilla" julafton här hemma med farmor dagen före den riktiga,
så här är lite bilder sen igår och bilder sen idag kommer upp lite senare.
Ha en fortsatt trevlig jul kära läsare!

We do always use to have a christmas "junior" at home the day before the real one,
so here you have some pictures from yesterday. We are celebrating twice because we want do
celebrate with grandma as well.


---
MERRY CHRISTMAS


God god god god goood jul!
Nu åker jag till Edsbyn och firar jul med släkten på mammas sida och ikväll
 blir det formodligen att vi åker till farbror Peter och firar med pappas sida!


---
CALM


Kan inte komma ihåg sist jag hade en riktig egentid som nu, utan tidpassningar och stress, underbart.
I can't remember the last time I had a calm moment like this, without plans and pressure, lovely.



---
COME ON

searching..


---
RED
 
Dags att fira lovet med härligt sällskap, fest och utgång!
Time to celebrate the holiday with party, nice company and disco!



---
LOVELY


Ca 550 kronor - Topshop
85 dollars  - Topshop


---
FINALLY


Välkommen efterlängtade lov!
Finally some rest!


---
RESULTATET!


Köket är äntligen klart och här har vi slutresultatet!
Vitt och fräscht och jag tycker det blev riktigt bra faktiskt!

Our kitchen is finally done and here we have the result of the makeover, I really love it!


---
DAGENS


Godnight


---
GLÖGGMYS


Ikväll har vi fått sällskap av släkten Forsberg här i huset där det bjöds på glögg, ost, pepparkakor
 och massa smått och gott. Folket åkte precis hem och nu ska jag ta mig en spelare med guran tänkte jag.
 (outfit bilder dyker upp senare)

Tonight we have gotten company by the family Forsberg and lot of different kinds of mulled
wines were enjoyed and gingerbread, cheese, nuts and crackers as well. The company just went
so now I will have some time with the guitar!


---
TÄVLING


Några av gårdagens bidrag!
Some houses from yesterday's compitition.


---
FÖRBEREDANDE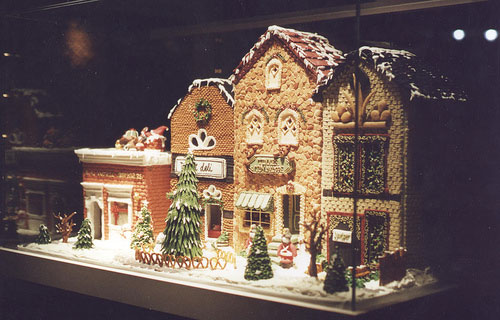 Just nu är det fix och don inför kvällens myskväll här på skolan och vi har
 fått in hela 14 anmälda lag till pepparkakshus tävlingen! Nu ska jag springa runt och tända
 lite ljus och fixa julmusik innan folket kommer!

Now I am prepearing the movie night in school and we have gotten 14 notified teams
fo the gingerbread's house compitition! I have to light lot of candles and get some nice christmas
music as well, before the students are coming so I have to continue the preparing now, see ya!




---
LET IT SNOW


Jag blev nyss bjuden på en mysmiddag av Johan och nu sitter vi här och kollar på TV,
 eller han kollaar på TV och jag sitter vid datorn snarare. Imorgon ska jag upp tidigt igen för ett
 morgonpass på gymmet och på kvällen blir det myskväll på skolan med pepparkakshus tävling vilket
 vi i elevrådet anordnat!

This evening I have enjoyied a nice dinner at my boyfriend's place cooked by himself and now we are sitting in front of the TV, but only he is watching while I am sitting in front of the computer. Tomorrow I am going up early again for some pump at the gym, and in the evning there is a movie night at school with gingerbread's house compitition which we in the student council have organized!



---
NP


Vi har redan räknat ut hela matteboken och därmed klar med första mattekursen,
bara en liten grej som återstår, det som avgör hel betyget och det är nationella provet
 som vi har på måndag. Just nu är det bara att råplugga egenom alla kapitel för att få sig en repetition
 av allt, och komma ihåg alla jäkla formler som man ska kunna också!

Already done with the whole mathbook and that means we are done with the whole cours of math1 as well,
 only one part left but the part that is decisive for our grades and this part is the national test which takes
place at monday. So now it is study the whole day long until the test before I can relax!



---
LUCIAMYS


Kolla vilken snäll skola vi har som bjuder på Lucia mysfika!
Bakom kan ni se UF-företagen som hade lite försäljning under tiden.

Look what a nice school I've chosen that offer us patries in Lucia!
Behind you can see some companies of the students which had sellings during the patried break.


---
PRETTY


Snyggt, eller vad säger ni?

Pretty, or what do you think?


---
DINNER


Ikväll tänkte jag bjuda Johan på en mysig middag här hemma så jag ska till att börja med den nu, 
men klockan halv fem ska jag iväg och träna forza och bränna lite mage/rumpa så middagen får bli
 efter det (imorse blev det ett biceps/axlel pass). Förresten så fick jag A på idrottsprovet, glad tjej!

I have invited Johan for dinner tonight, so I'm going to start with the food right now,
but I have also booked Forza and will have my abs and but dead at the gym so the dinner will be
 after seven a clock. I got A on the athletic test by the way!

---
INSÄNDARE


Vill tacka för all fin respons jag fått för min insändare i Ljusnan som publicerades igår, kul när folk hör av sig!

I just want to thank those who have sent all the great feedback of my letter
to the editor in Ljusnan which was published yesterday, good when people get in touch!


---
THIRD ADVENT


Ett tredje adventsfirande med ett skönt gäng med en hel del tilltugg så som ost och kex,
   glögg, choklad, tryffel, vindruvor & päron, nötter och pepparkakor hemma hos pojkvännen är inte
 helt fel. Imorgon ska jag upp alldeles för tidigt så nu måste jag säga godnatt och sov gott!
 (Det blev inget Sverre-besök igår förresten) 

A third Advent celebration with some nice people with a lot of snacks such as cheese and crackers,
mulled wine, chocolate, truffles, grapes and pears, nuts and gingerbread ​is not
that bad. Tomorrow I'll get up too early so now I have to say good night and sleep well!


---
GINA TRICOT VÅRKOLLEKTION 2012


Just nu sitter jag och fullkomligt DREGLAR över Gina Tricots vårkollektion 2012! 
I'm going crazy of Gina Tricot's spring collection 2012! Damn what a fantastic collektion!


---
TONIGHT



Snart ska jag till Sverre och träffa en del av gänget som bland annat 
var med igår på festen, ha en fin lördagskväll  allesammans!

Tonight I am going to Sverre, some people from yesterday's party are there as well, have a nice evening!


---
BUSY WOMAN


Jag ska bli bättre på att blogga nu, den här veckan har varit så grymt överproppad med grejer så
 jag har inte haft en enda minut över till bloggen. Men det ska bli bättring från och med nu och en outfit dyker upp redan idag, håll utkik!


---
COSY


mysoutfit
cosy outfit


---
ADVENTSKALENDERN

Gammal outfit.

Sitter och kollar på julkalendern nu med familjen, så himla mysig är den, och det känns verkligen
som när man var liten! Gammaldags miljö och precis som en julkalender ska vara!

Me and the family are sitting in front of the TV now and are watching the Advent Calender of this year.
It feels like the older days, the enviroment in it is old-fangled and as it should be!



---
PROV


1 prov av 5 avklarad för den här veckan..

One of the five tests of this week is completed..


---
TOPSHOP

Ca 450 kr - Topshop - LOVE!


---
TODAY


Plugg, julbak och en hel del dundrande från köket har förgyllt min dag.
 Vi ska göra om köket så jag antar att jag hinner bli van med allt brak och hammrande här
 framöver, men det är det värt, ett nytt kök är inte helt fel!

Study, christmas baking and a lot of thunders from the kitchen are what's have included this day.
We are furbish up the kitchen so I guess I have time to get used to everything crashing and hammering in the coming week, but it's worth it, a new kitchen is not entirely wrong!



---
AMAZING


Jag fick en helt fantastisk kväll/natt igår med trevliga människor och mycket gitarr och sång!
Glöggkvällar är nog bland det allra mysigaste som finns!

I had an amazing enjoyable evening yesterday with nice people and lot of guitarplaying and singing!
Evenings with mulled wine and guitar are among the nicest around!


---
LATTE


Mamma kom in med en latte till mig och Johan nyss och en varsin pepparkaka, gottgott :)
Måste bara tacka Vilma och Melinda för den goda middagen igår som jag och syrran blev ditbjuden på,
 tacos funkar alltid! Nu ska jag sätta mig med gitarren och mysspela lite allt möjligt!

Mom came with two lattes just a moment ago for me and Johan and two gingerbread cookies each. Very tasty!
I just have to thank Vilma and Melinda for the yesterday's dinner as well, me and my sister were invited
for tacos at Melindas place and it tasted very good! Now I will have a playtime on my own with the guitar and play some soft music, love for that!


---
BOX


Boxningstime

Time for boxing!



---
DAGENS


Ikväll ska jag på boxning med Johan och imorgon ska jag ha en träff med ungdomsrådet i
kommun och lyssna på föreläsningar, äta god mat och träffa trevliga människor bland annat!
 Mycket spännande med andra ord :)

Tonight I will have a boxing match with Johan at the gym, and tomorrow I
will skip the school for going to Young Council and listen to lectures, eat good food and meat nice people!


---